Causes
Skills
Availability
NGO

Corporate
Employee Engagement

In the light of the COVID-19 pandemic, ConnectFor has curated an exclusive Virtual Volunteering Programme. Our goal is to safeguard the health of our volunteers which is our highest priority while continuing our efforts to capacity build institutions like shelter homes, hospitals, and day-schools that need assistance to run their daily administration and cater to their respective beneficiary groups. We are determined to continue to create value as we ideate, design, and execute these opportunities with defined outcomes for our Corporate Partners. We believe that our commitment to CSR should stay strong now more than ever, as the potential for impact is currently immense.
We are happy to have identified ways to keep making a difference while remaining in the safety and comfort of our homes. Achieve your Employee Volunteering Goals with us in a creative, impactful, safe, and engaging manner.
Check out this video to see ways a corporate volunteer can help NGOs during these tough times!
If you're a corporate organization looking for post lockdown engagements, scroll to know more.
ConnectFor is where cause meets passion meets impact
We have been working in the integral space of corporate philanthropy, helping organizations fulfill their corporate social responsibility (CSR) goals through employee engagement. We partner with socially conscious organizations like DBS, Godrej, Castrol, Mahindra, ITC, TATA Communications, MTC, WeWork, Mahindra Susten, Duff & Phelps, etc to create impactful collaborations that provide support and create value for our stakeholders in the non-profit space.
We provide tailored solutions to ensure social value through volunteering and CSR, and are a registered non-profit organization ourselves.
We act as a vital link between corporates and NGO partners, wherein we assess-
The needs of the corporates
Identify credible NGO partners for engagements
Ideate & execute corporate social engagement activities
Monitoring, reporting, and impact evaluation of your engagement activities
The ConnectFor team ensures a seamless end to end experience by using its expertise and experience in volunteer management and employee engagement. We are proud to say that we received positive feedback from 96% of corporate volunteers. We have curated these events across India in cities like Mumbai, Bengaluru, Pune, Delhi, Kolkata and Chennai.
Service
Offerings
Find below our Service Offerings for Corporate Organizations across India -
Group Virtual Volunteering - One day, one time volunteering in a group
Individual Virtual Volunteering - Long-term volunteering in individual capacities
Open Group Virtual Volunteering - Volunteering in groups on weekends
Virtual Volunteers' Motivation Workshop - Boosting Employees' Morale to Volunteer
Rewards & Recognitions Programme - Recognizing & rewarding employee champions
Employees Volunteering Programme Management - End-to-end management of an Employee Volunteering Programme.

Testimonials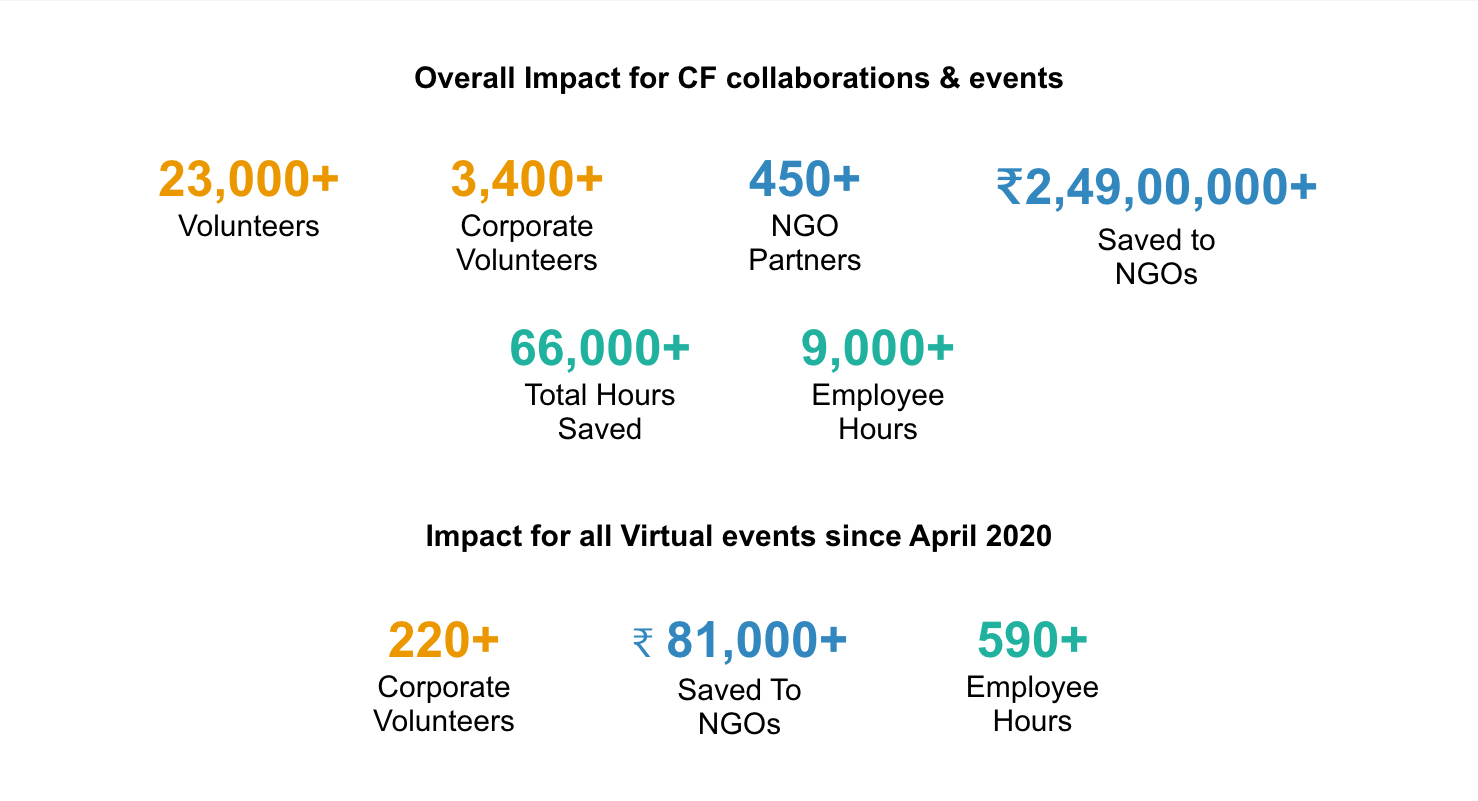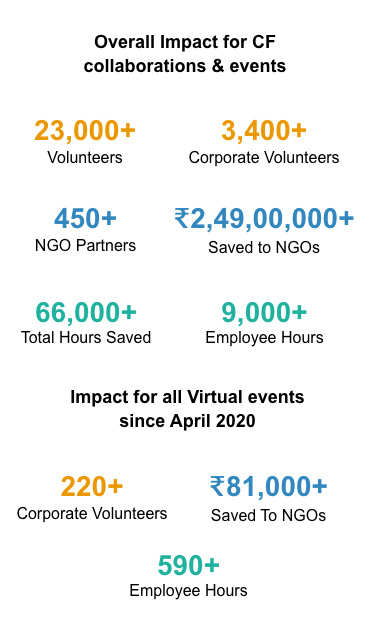 Some of our Corporate Partners include